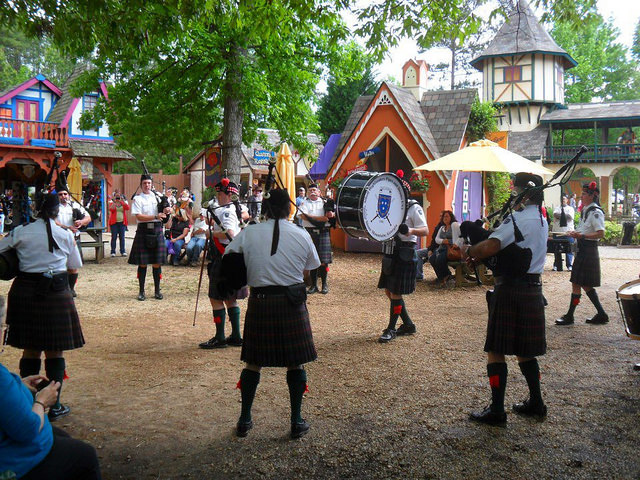 There's a whole lotta fun and a little bit of history at the 36th Annual Georgia Renaissance Festival running over 8 spectacular weekends from May 1 through June 13. Each weekend features something uniquely special to enhance the enjoyment of all who enter the gates of this English Village and step back in time to the 16th Century.
Founded in 1986, the Georgia Renaissance Festival is the largest Renaissance festival in the Southeast. It has grown into a 32-acre theme park filled with charming cottages and castles, kitchens and pubs, and an unusual collection of people-powered rides and games of skill - tucked into 100 acres just minutes south of Atlanta, Georgia.
Entertainment to Delight the Entire Family
You'll find a full day of entertainment with continuous shows on ten stages, including the beautiful horses and gallant knights in shining armor in the full contact joust, circus-style shows, comedy, and music. Enjoy shopping in over 150 artisan shoppes, games of skill, and people-powered rides for the amusement of kids of all ages. The village lanes are full of costumed characters – royalty, peasants, and street entertainers – all ready to surprise and delight you with tall tales, songs, jokes, and tricks. There is truly something for adults and children of all ages to enjoy – all day long!
One of the highlights of any festival day is the Jousting Tournament. You'll be on the edge of your seat as noble knights in shining armor battle and compete with lance and sword, crossbow, and chariot. It's an epic show filled with thrilling stunts, the clashing of steel, and the thundering of hooves daily during three full combat jousts at the Royal Tournament Arena.
Many favorite attractions are back this year such as The Birds of Prey, Acrobatic Daredevils, Gypsy Geoff, and more. Some of the new attractions this year include the 4-ton bells of Cast In Bronze, the precious Puppies of Penzance, and The Courtier's Academy where young nobles of the Kingdom learn proper court behavior and receives a certificate from the King or Queen themselves!
Voted a "Top 20 Event in the Southeast", the 36th annual season opens May 1 and runs through June 13, 2021, Saturdays and Sundays including Memorial Day Monday. Gates open at 10:30 am and close at 6 pm.
GENERAL ADMISSION TICKETS
Gate Price Online Price
Adults (age 13+) $24.00 $19.95
Child (6 to 12) $12.00 $9.95
Children 5 & Under Free Free
PURCHASE ONLINE TICKETS HERE.
GIVEAWAY ENDED
WINNERS BELOW
T. Mays
A. Howard
S. Davis
Awaiting Confirmation from 2 winners
Macaroni Kid College Park East Point Morrow is a free hyper-local weekly newsletter and website focused on fun family events and activities for kids in College Park, East Point, Morrow, Union City, South Fulton, Forest Park, Hapeville, Jonesboro, Riverdale, and the surrounding areas. We gather together all kinds of local family events and activities each week and add useful information about classes, family-focused businesses, product reviews, recipes, crafts, school and camp guides, and more. We are your go-to guide for kids' activities in South Fulton County and some of Clayton County. For more articles like this delivered to your inbox once per week, please subscribe. If you have an extraordinary event that you would like to share in our community, you can submit it for free here.
Remember to connect with us on:
Facebook ✿ Twitter ✿ Instagram ✿ Pinterest
Find Your Family Fun®
Get a FREE kid-friendly event calendar for South Fulton and North Clayton Counties