WE HAVE RE-OPENED AND ARE INVITING ALL MACARONI KID READERS FOR A COMPLIMENTARY BACKSTAGE TOUR!
If you're looking for something fun and different to do in metro Atlanta, Macaroni Kid is excited to share a recipe that will have you wanting to "Eat More Chikin." We are happy to announce that Chick-fil-A®Backstage Tour is inviting all Georgia Macaroni Kid subscribers to be their guests on a fun storytelling experience that will lead you through the fascinating history, culture, and values of Georgia's very own Chick-fil-A® and its founder S. Truett Cathy.
Located near Hartsfield-Jackson International Airport and nestled on a scenic 80-acre landscaped campus, the behind-the-scenes tour provides visitors an authentic experience inspired by the highly successful restaurateur and the multi-million dollar brand that grew to become one of the most successful chicken restaurant chains in the country with over 2,000 locations across the U.S.
Whether you're looking for your next family outing, a team-building activity, or a school field trip, the Chick-fil-A® Backstage Tour is the perfect ingredient for fun.
This special offer is good for you plus three guests to enjoy the "Original" one-hour tour. Although this is a free offer for four guests, reservations are required. Additional tickets can be purchased on the website. To reserve your complimentary tour, please email your name, group size and 3 preferred tour dates and time to Chick-fil-abackstagetour@chick-fil-a.com. Make sure to mention that you are a Macaroni Kid College Park * East Point * Morrow subscriber. This offer is good until December 31, 2022. Free parking on-site.






The Chick-Fil-A® Backstage Tour is a fun-filled and enlightening storytelling experience inspired by the fascinating history, culture, values and unique business model of Chick-fil-A® and founder S. Truett Cathy. Throughout the tour, guests will experience the very assets that make Chick-fil-A® so special: hospitable people, tasty food, the "Eat Mor Chikin" Cows, and rich history.

"ORIGINAL" TOUR TIMES:

Tuesday & Wednesday: 9 AM, 11 AM and 1:30 PM

Friday: 9 AM and 11 AM
During the tour, guests will learn some of the company's best-kept secrets, hear inspiring stories about Truett and the early days of Chick-Fil-A®, and tour the scenic 80-acre corporate campus.
You will also be able to enjoy shopping at our new retail store and purchase your favorite food to enjoy after your tour.
Hungry for more?
If the "Original" Tour just isn't enough and you want an extra serving of Chick-Fil-A®'s award-winning southern hospitality, other tour options are available for purchase.
- Be an honored guest during with "Deluxe" Tour (2-hour tour held on Mondays at 1:30 PM) - $20.00
- In addition to the Original and Deluxe Tours, The Chick-Fil-A® Backstage Tour also offers tailored, age-appropriate experiences for Elementary, Middle and High School groups that include study guides. Contact for pricing.
Special pricing is offered for groups of 10 or more. For details, contact chick-fil-abackstagetour@chick-fil-a.com.It is recommended that groups purchase tickets in advance to find the best type of tour and time for your group. Tickets can be purchased here.
The Chick-fil-A®Backstage Tour requires 1 to 2 miles of walking, so wear comfortable shoes. Tour times begin promptly at their scheduled start time. Please plan to arrive 15 minutes prior to your tour time to allow for check-in at the Chick-fil-A security entrance.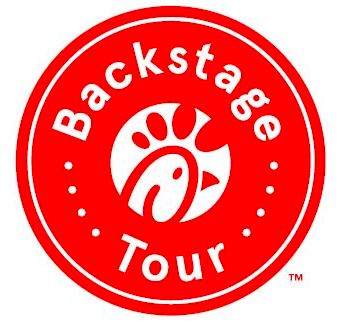 Connect with Chick-fil-A®
Photo Opps Available: Use hashtags #IHEARTCHIKIN #CFATours
Reserve your FREE Chick-fil-A Backstage Tour today!
Macaroni Kid College Park East Point Morrow is a free hyper-local weekly newsletter and website focused on fun family events and activities for kids in College Park, East Point, Morrow, Union City, South Fulton, Forest Park, Hapeville, Jonesboro, Riverdale, and the surrounding areas. We gather together all kinds of local family events and activities each week and add useful information about classes, family-focused businesses, product reviews, recipes, crafts, school and camp guides, and more. We are your go-to-guide for kids activities in South Fulton County and some of Clayton County. For more articles like this delivered to your inbox once per week, please subscribe. If you have an extraordinary event that you would like to share in our community, you can submit it for free here.
Remember to connect with us on:
Facebook ✿ Twitter ✿ Instagram ✿ Pinterest
Find Your Family Fun®
Get a FREE kid-friendly event calendar for South Fulton and North Clayton Counties full of activities, events, festivals and more! Sign up by clicking HERE!