Dinosaur Adventure is North America's newest and most advanced traveling Dinosaur exhibit featuring realistic, life-sized dinosaurs that come alive with their life-like movement and roars. Learn about the most popular dinosaurs -Tyrannosaurus, Triceratops, Diplodocus, Velociraptor, and explore the Triassic, Jurassic, and Cretaceous time periods.
Get up close and personal with a moving 40-foot T-Rex, partake in our many photo ops including dinosaur riding, and see what it's like when Dinosaur Adventure's Copycatasaurus imitates your every move!
As part of Dinosaur Adventure, children of all ages will enjoy a variety of activities: fossil crafting, Jurassic jeeps, pre-historic themed obstacle courses, and bounce houses, walking dinosaur rides, and more! The whole family will also be amused by our live entertainment featuring velociraptor training sessions and a baby dinosaur meet & greet.
The event runs Saturday and Sunday, February 1 to February 2, 9:00 am to 8:00 pm on Saturday, and 9:00 am to 7:00 pm on Sunday at The Georgia International Convention Center, 2000 Convention Center Concourse, Atlanta, GA 30337. Ticket prices range from $20 to $56. VIP packages, Children's Activity Packages, and General Admission pricing available.
For more information about Dinosaur Adventure, visit dinosauradventure.com. Tickets are available online.
! ! ! GIVEAWAY ENDED at 5PM ! ! !
A winner will be awarded 1/29/2020
Macaroni Kid College Park * East Point * Morrow has 4 Tickets to Giveaway!
CONTEST RULES
- ONE ENTRY PER EMAIL ADDRESS PLEASE. DUPLICATES WILL VOID ALL ENTRIES!
- Prizes can be won from only ONE Macaroni Kid Publisher.
- This giveaway ENDS Wednesday, Jan. 29 at 5:00 PM.
- Tickets are NON-TRANSFERABLE once they are won.
ENTER HERE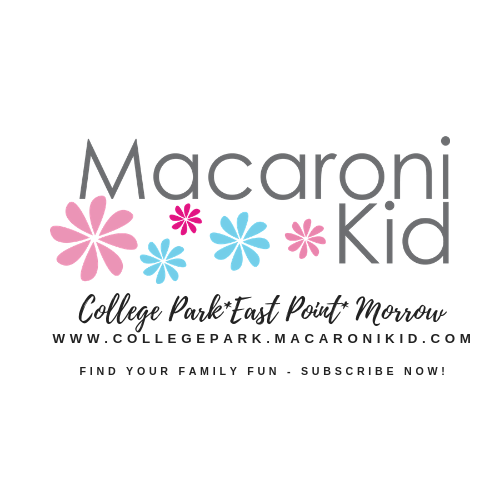 Macaroni Kid College Park East Point Morrow is a free hyper-local weekly newsletter and website focused on fun family events and activities for kids in College Park, East Point, Morrow, Union City, South Fulton, Forest Park, Hapeville, Jonesboro, Riverdale, and the surrounding areas. We gather together all kinds of local family events and activities each week and add useful information about classes, family-focused businesses, product reviews, recipes, crafts, school and camp guides, and more. We are your go-to-guide for kids activities in South Fulton County and some of Clayton County. For more articles like this delivered to your inbox once per week, please subscribe. If you have an extraordinary event that you would like to share in our community, you can submit it for free here.
Remember to connect with us on:
Facebook ✿ Twitter ✿ Instagram ✿ Pinterest
Find Your Family Fun®
Get a FREE kid-friendly event calendar for South Fulton and North Clayton Counties full of activities, events, festivals and more!