Clayton County Public Schools (CCPS), Career, Technical and Agricultural Education (CTAE) Program is honored to welcome Mikaila Ulmer, CEO, and Founder of Me & the Bees Lemonade, on Saturday, March 23, as she will serve as the featured speaker during the 2019 Science, Technology, Engineering, and Math (STEM) Expo! A teenage entrepreneur, who has gained national fame as "The Lemonade Girl" from ABC's Television Show "Shark Tank," a philanthropist, author, and bee ambassador, Mikaila, was just four years old when she began to research bees, after an unfortunate bee encounter, and learned how important they were to the ecosystem.
According to the Me & the Bees Lemonade website, www.meandthebees.com, the idea behind the honey-sweetened lemonade was conceived when Mikalia was stung twice by bees while preparing to participate in the Acton Children's Business Fair and Austin Lemonade Day in Austin, Texas. "I didn't enjoy the bee stings at all," as detailed by Mikaila on the website. "They scared me, but then something strange happened. I became fascinated with bees. I learned all about what they do for me and our ecosystem. So then I thought, what if I make something that helps honeybees and uses my Great Granny Helen's recipe? That's how Me & the Bees Lemonade was born. It comes from my Great Granny Helen's flaxseed recipe and my new love for bees," she added.

To be held at Mundy's Mill High School, 9:00 a.m. – 1:00 p.m. the free expo is an opportunity to engage, inspire and STEMulate students, parents, teachers, businesses and the community with activities, food and fun! In addition, the event will highlight future Career, Technical & Agricultural Education (CTAE) and STEM pathways, careers, products, experiences and the life skills that are vital for students to be college, career, workforce and life ready!

"We are extremely privileged to have Mikaila Ulmer as a guest presenter at our STEM Expo," said Dr. Morcease J. Beasley, CCPS Superintendent of Schools. "Mikaila embodies many of the skills and mindsets that we instill in our students here in Clayton County -- critical thinking, innovation, reasoning, and much more. It is important for young people to see others like them achieve levels of success in science, technology, engineering and mathematics and we are thrilled to have such a renowned individual engage our students in this manner. It is our hope that Mikaila will, through her interaction with our students and their families, create a level of excitement and wonder for learning that will spread throughout the STEM Expo and beyond," he added.

"STEMulating a culture of high performance sets an expectation that our students will be fully equipped to explore, understand and apply knowledge and skills learned in the classroom," said Dr. Eboni Chillis, CTAE Coordinator. "By exposing our scholars to real-life innovators such as Mikaila Ulmer, we really are providing the students of Clayton County Public Schools with experiences to activate interest and to visualize what they can do and become. We are preparing them to successfully live, work, play and advance in the global workforce,"


About Mikaila Ulmer, CEO/Founder, Me & The Bees Lemonade

Using her Great Granny Helen's flaxseed honey lemonade recipe, Mikaila launched her business from her home in Austin, Texas in 2009. Landing a deal with Daymond John on the show Shark Tank was just the beginning of Me & the Bees' many business successes. Today, the award-winning lemonade is buzzing off the shelves of Whole Foods Markets, Wegmans, and natural and organic food stores across the country. At just 13 years old, Mikaila has shared her story with Good Morning America, NBC News, The Real, Forbes and TIME among others, and has been invited to speak on social entrepreneurship at prestigious gatherings including the White House United State of Women Summit, where she introduced President Barack Obama, Microsoft We Day, alongside Satya Nadella and the Dell Women's Entrepreneur Network Summit in South Africa.
About Clayton County Public Schools

Clayton County Public Schools (CCPS) is fully accredited through AdvancED – Southern Association of Colleges and Schools Council on Accreditation and School Improvement. The district offers a focused world-class program based on a challenging curriculum which is taught from pre-kindergarten through 12th grade. Serving over 55,000 students, Clayton County Public Schools is ranked among the 100 largest school districts in the U.S. and is the fifth largest school system in Georgia.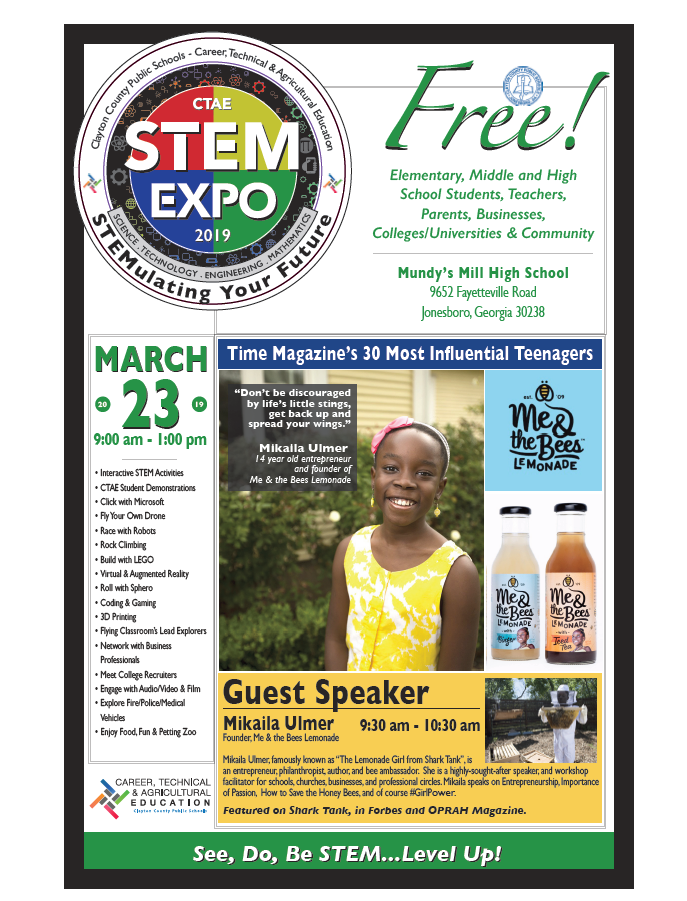 Get a weekly FREE kid-friendly event calendar for the Atlanta Tri-Cities area & beyond.
It's packed full of family-friendly activities, events and more!
Sign up by clicking HERE!