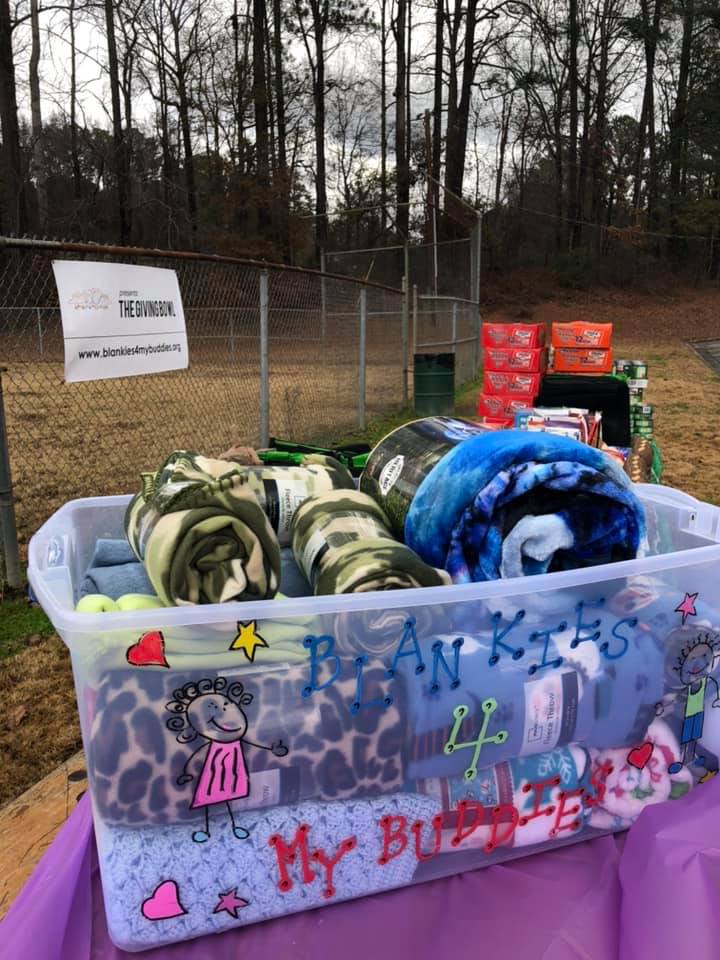 Chris Matthews, Jr., a 6th grade student at KIPP South Fulton Academy in East Point and his family, successfully completed the 2nd Annual Giving Bowl, a 7-on-7 charitable flag football game created by the Matthews' Family as a part of their project, Blankies 4 My Buddies. The event held on Dec. 15 collected enough food to feed more than 50 families before Christmas. The reusable bags, donated by Publix at Princeton Lakes in East Point, were filled with staples like rice, pasta, and potatoes; breakfast foods including oatmeal and grits; canned vegetables, desserts and more. Local charities, Here2Help, Inc., headquartered in Gwinnett County and The Square Church (Smyrna) graciously provided the bulk of the food for the second year in a row. A contribution by The 4LBU Foundation, founded by Georgia Tech graduate, NCAA record holder and former NFL player, Prince Daniels, Jr. and donations by participants and attendees garnered 50 cozy, child-themed blankets for local children.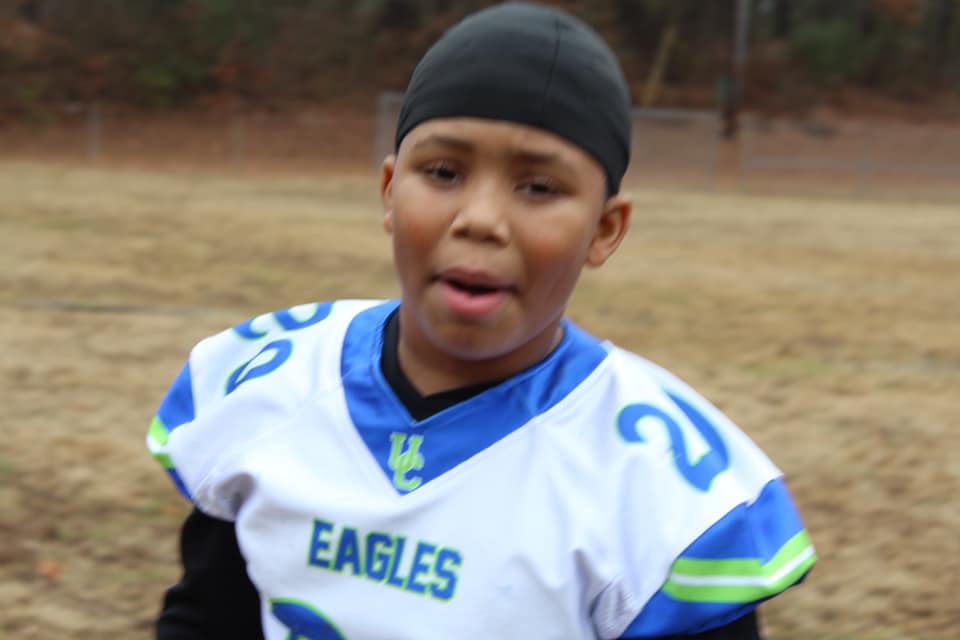 "I love football and I am so happy to be able to do this work and share it with my friends and teammates each year," says Chris Matthews, Jr. "I want to get as many kids involved with helping their communities as possible because I know that we are the future and kindness starts with us if we want to live a long, happy life.
Blankies 4 My Buddies was created in 2013 to honor the memory of their daughter, a traumatic loss during pregnancy. The family project provides blankets to sick and displaced or homeless children mostly during the cold months. These particular blankets will be donated to local children's hospital wards, domestic violence shelters, and to the police department to share with children involved in traumatic incidents.
The idea of The Giving Bowl was developed to bridge C.J.'s passion for football and helping others.
"Blankies 4 My Buddies has been a way to redirect my son's feelings of helplessness and hopelessness into pride because he believes that his sister is watching over him in approval and gratitude," says Kristen Wright-Matthews. "Every now and then we will get an email from a parent with an ill or hospitalized child who could use an extra dose of comfort," says Wright-Matthews. "That's what the program is all about, helping kids who need comfort like Blankies 4 My Buddies has given my son to come to terms with our family's great loss."
"We love the idea of teaching our son about kindness, and having him to embrace it wholeheartedly has brought my husband and I so much pride as his parents," said Wright-Matthews.
Check out this video from the 2017 event:
Thank you to all of the boys and their families who came out to play with purpose, taking part in such an important mission. A special thanks to City of South Fulton District 5 Councilwoman Rosie Jackson and Fulton County Parks and Recreation Department for their continued support of The Giving Bowl. Donations are accepted on an ongoing basis on Go Fund Me.
LIKE THIS ARTICLE? Macaroni Kid College Park East Point Morrow is a free hyper-local weekly newsletter and website focused on fun family events and activities for kids in College Park, East Point, Morrow, Union City, Forest Park, Hapeville, Jonesboro, Riverdale and the surrounding areas. We gather together all kinds of local family events and activities each week and add useful information about classes, family-focused businesses, product reviews, recipes, crafts, school and camp guides, and more. We are your go-to-guide for kids activities in South Fulton County and some of Clayton County. For more articles like this delivered to your inbox once per week, please subscribe. If you have an extraordinary event that you would like to share in our community, you can submit it for free here.
Remember to connect with us on:
Facebook 🎅 Twitter 🎅 Instagram 🎅 Pinterest
Find Your Family Fun®