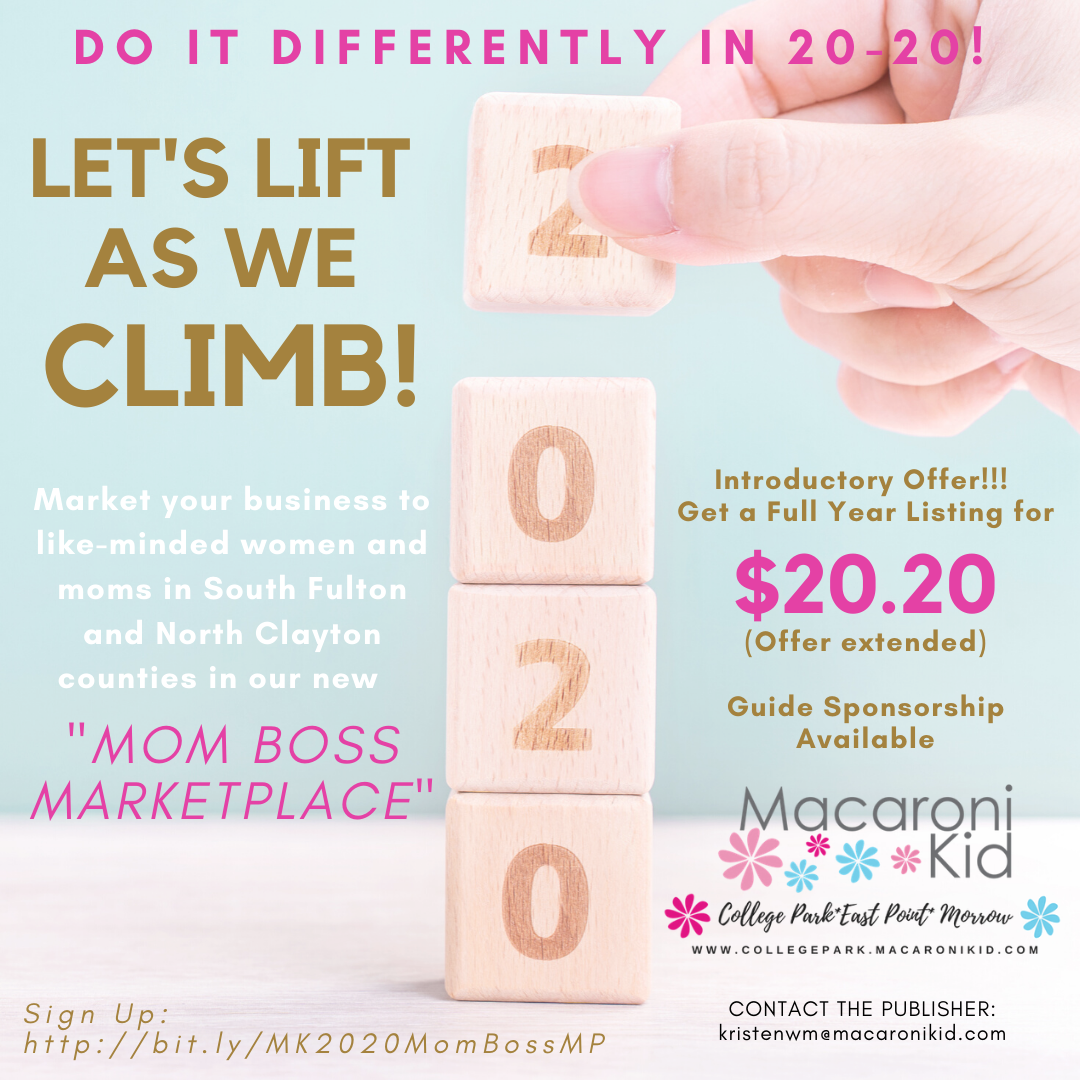 Each year, more and more women around the world are becoming entrepreneurs, running their households while simultaneously rocking their own businesses. Macaroni Kid College Park East Point Morrow wants to highlight these superwomen and moms in our community with our new and improved 2020 Mom Boss Marketplace. This is the premier hot spot for showcasing you and the businesses you run; your passions, your mom hacks, etc. This is where local women will come to hear your story and believe us, someone needs to hear it. Another sister needs to know that they are not stuck. Another sister needs to hear that she can have it all too!
Through targeted marketing, we can help you grow your business and earn income while inspiring other women (and moms) who are looking to expand their lives, whether it be through the use of your product or service, or empowering them with the motivation to join you or start a business in an area that they are passionate about.
The Mom Boss Marketplace is a unique resource that helps share many different avenues for women to build their own power and extend the olive branch to others via informative articles, events, networking opportunities, access to advertising opportunities, cross-promotions, special guides, good times, etc. The guide will be promoted all year long to build our community by sharing local businesses and resources and stories of success.
Our introductory offer of $20.20 gets you a listing in the business directory through January 31, 2020. After that, a 2020 listing will cost $50.00.
By placing a listing in our Mom Boss Marketplace, you will receive:
A 2020 listing in our Mom Boss Marketplace Guide [Feb 2020 - Dec 2020]
A brand NEW community of customers- over 2,500 LOCAL parents will receive this guide!
GUIDE SPONSORSHIP OPPORTUNITY!

If you're interested in sponsoring this annual guide for $202.00 (a value of over $1000), you will receive the following promotion:
1. A Featured Listing in the Mom Boss Marketplace
2. A featured Article that includes your Bio, Company Info, and something that highlights your super strength as a Mom Boss (we'll guide you), and a link back to your full listing as well as your website and social media channels.
4. One Facebook post and a listing in our Mom Boss Marketplace Guide Facebook album.
5. First opportunity at sponsoring/vending at future events.
6. First opportunity in all of our 2020 guides, including Mother's Day, Father's Day, Summer Guide, Holiday and 12 Days of Giveaways.
7. An opportunity to be a one-time or regular contributor to www.collegepark.macaronikid.com.
Why place a listing in this guide?
Valentine's Day, Mother's Day, Father's Day, and other holidays are coming. This guide will be shared with our readers and will be available for our community to use all year long to find gifts and resources for themselves, holidays, birthdays & anniversaries! Not only will this provide your business information to over 2,500 families+ (subscribers plus 8,000-10,000 hits per month) who are already searching for gifts for their family & friends, but it is such a beautiful way for you to also support other Mom Bosses!
*Moms listed in this guide must live or do business within the College Park East Point Morrow area (including Jonesboro, Riverdale, Union City, Rex, Lake City, Forest Park, Hapeville and City of South Fulton).
The guide will contain many resources and ideas for earning money, business tips, and inspirational stories about local Boss Moms in our community - LIKE YOU!
🌸🌸🌸🌸🌸
Macaroni Kid College Park East Point Morrow is a free hyper-local weekly newsletter and website focused on fun family events and activities for kids in College Park, East Point, Morrow, Union City, South Fulton, Forest Park, Hapeville, Jonesboro, Riverdale, and the surrounding areas. We gather together all kinds of local family events and activities each week and add useful information about classes, family-focused businesses, product reviews, recipes, crafts, school and camp guides, and more. We are your go-to-guide for kids activities in South Fulton County and some of Clayton County. For more articles like this delivered to your inbox once per week, please subscribe. If you have an extraordinary event that you would like to share in our community, you can submit it for free here.
Remember to connect with us on:
Facebook ✿ Twitter ✿ Instagram ✿ Pinterest
Find Your Family Fun®
Get a FREE kid-friendly event calendar for South Fulton and North Clayton Counties full of activities, events, festivals and more! Sign up by clicking HERE!