This summer I received a scholarship to attend the final week of Serenbe Playhouse's Out of the Woods theatre camp, and it was one of the best experiences I've ever had. I was really disappointed when it came to an end and wished I could have gone for at least two weeks. My summer was really busy so it was impossible, but I told my mom if I ever get another opportunity, 5 days will not be enough. I love that place and your kids will love it too!
In one week, we covered a lot of ground, literally. If you aren't familiar with Serenbe, their mission is to provide opportunities to experience nature and create art inspired by it. That is exactly what we did! From nature walks and hikes to "Water Wednesday," we spent a lot of time outdoors soaking in the atmosphere of the amazing Serenbe community. The other half of the time was spent learning from professionals who taught us acting skills and helped us to enhance our performance skills for the finale, which was our mini production entitled "Pirates of the Serenbe-an." I think we did a great job because we all worked together and created a show that we could be proud of.
What I liked most about the camp was that the teachers helped us, but we were allowed to be creative. We ventured outdoors for ideas and resources to produce our show, from helping to put together our own costumes to writing our own lines. In the end, we were satisfied, and the feeling that I had when the audience cheered us on at the end, was overwhelming. I know it was our parents and they'd love anything we do, but I think it was actually really good.
After the camp was over, I went to the Alliance Theatre to see Winnie the Pooh with my mom and little brother. While looking through the program, I noticed that two of my teachers from Serenbe were also in this show. That was exciting to find that I had been taught by working actors. This further inspired me to want to pursue my acting career because there are a lot of opportunities in Atlanta for kids like me. If your kids are interested in acting, or even if they are not, I found it to be a great experience to meet new friends, explore a new place, and also just to help me to be more imaginative and take advantage of all that nature has to offer.
As I mentioned before, if I ever had another opportunity to attend classes at Serenbe, I would. It looks like we're all in luck because they just released their Fall schedule, and the line up looks awesome! Check it out here.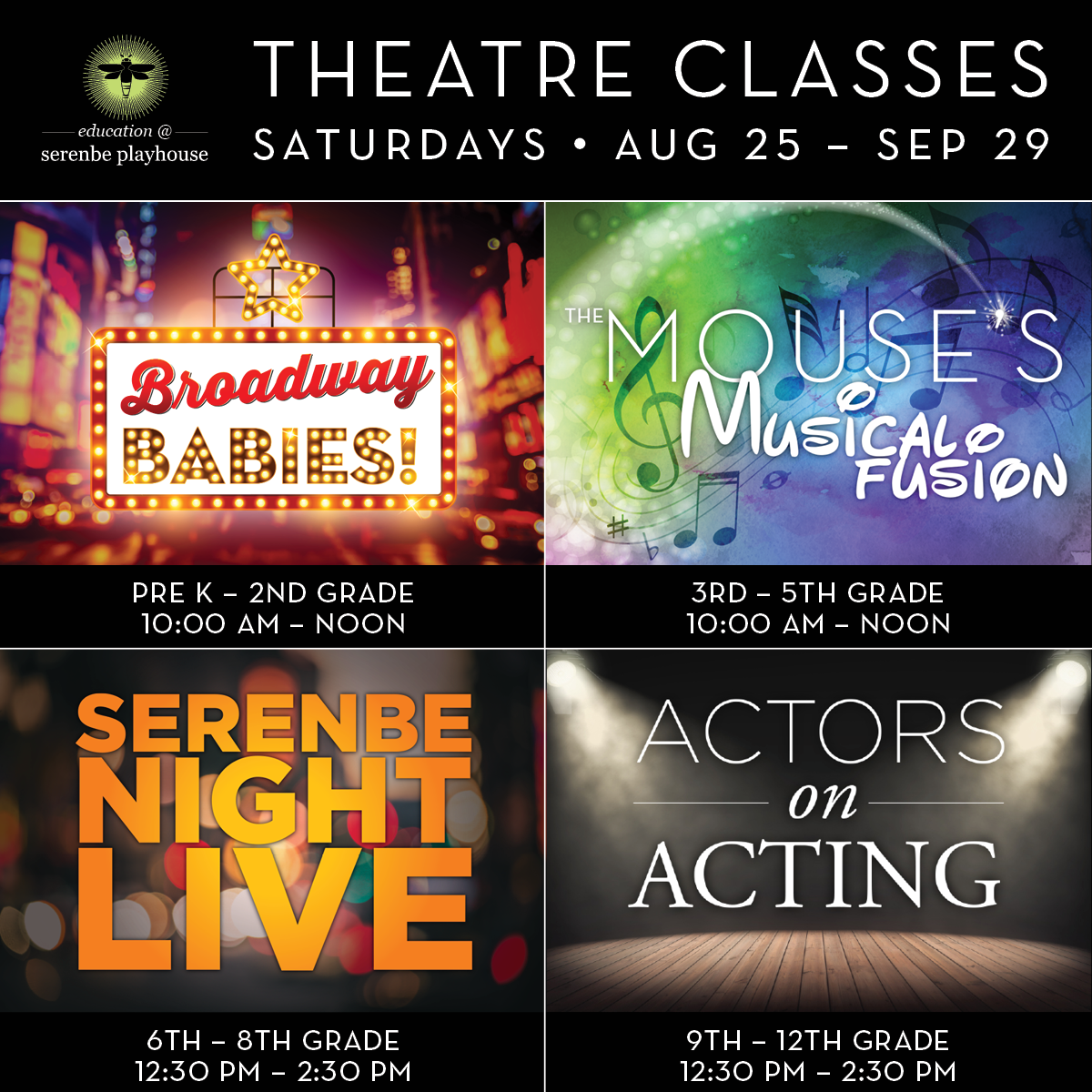 The classes will take place on Saturdays from August 25- September 29, 2018.
Broadway Babies: K-2nd Grades - 10:00 a.m. to noon ($200)
The Mouse's Musical Fusion; 3rd-5th Grades - 10:00 a.m. to noon ($200)
Serenbe Night Live: 6th-8th Grades - 12:30 p.m. to 2:30 p.m. ($200)
Actors on Acting: 9th-12th Grades - 12:30PM-2:30PM ($250)
To register, visit http://www.serenbeplayhouse.com/education/classes. Use DISCOUNT CODE: TENOFF for 10% off the cost of tuition.
Scholarships and financial aid are available. Send an email to education@serenbeplayhouse.com for an application and/or more information, or call or 770-463-1110.
Macaroni Kid College Park East Point Morrow is a free hyper-local weekly newsletter and website focused on fun family events and activities for kids in College Park, East Point, Morrow, Union City, Forest Park, Hapeville, Jonesboro, Riverdale and the surrounding areas. We gather together all kinds of local family events and activities each week and add useful information about classes, family-focused businesses, product reviews, recipes, crafts, school and camp guides, and more. We are your go-to-guide for kids activities in South Fulton County and some of Clayton County. For more articles like this delivered to your inbox once per week, please subscribe. If you have an extraordinary event that you would like to share in our community, you can submit it for free here.
Remember to connect with us on: