We are six months into 2018. Have you accomplished any of the goals you set for yourself this year? Are you struggling to find a balance between your needs and your family's needs? Do you ever feel like you've been left with the short end of the stick? Do you feel guilty for wanting more? You are not alone. As moms, we often make sacrifices for our families because it is in our nature to put them first. We are nurturers, but many of us could use a little attention for ourselves. So a few of us South Atlanta Macaroni Kid Moms sat down to brainstorm how we can help our mom friends out. We reached out to my girl, Christine St. Vil, a phenomenal mompreneur whom I met at Steve Harvey's Act Like A Success and have been following in social media for a few years now. Christine delivers great content to moms all across the globe daily and has inspired me to get back to me and start pursuing some of those goals that I buried away once I became a mom. If you answered yes to any of the questions above, here is her advice to you.
Q: Should moms feel guilty about having (or wanting) to achieve personal goals?
A: No. If I've learned anything over the last few years, it's that my children are watching what I'm doing more than what I'm saying. If I would've allowed guilt to keep me from starting my business and following my dreams, I don't think my kids would be confident to start their own. I have one daughter who just started a business and is about to be an author. She sees Mommy talking about my book, and working on my business and was inspired to do the same. If you're doing anything that ultimately has a positive impact on your children, what is there to feel guilty about? When my kids grow up and leave home, I don't want to be stuck trying to figure out who I am, or who my husband is. I want to be able to continue to live life even after they're gone.
2) How do you feel about self-care and mom taking time for herself?
We are worth it. We deserve it. We owe it to our children and families to be our best selves. We can't be that if we don't take time to take care of ourselves. I love a good girlfriend outing or happy hour just to let my hair done and unplug. When we take care of ourselves, we're sending a message to our children that they need to do the same.
Being everything to your family can take its toll on you, so it is essential to steal your time back and rediscover "you" underneath all the responsibilities. In doing so, we are better able to care for those around us. Have you ever heard of the term, "Happy mom, happy home?" Well, let's get back to us girls and make our homes even happier places for ourselves and families to thrive. To help you out, Christine is giving you free access to her 5 Tips for Maximizing Your Time as a Mompreneur.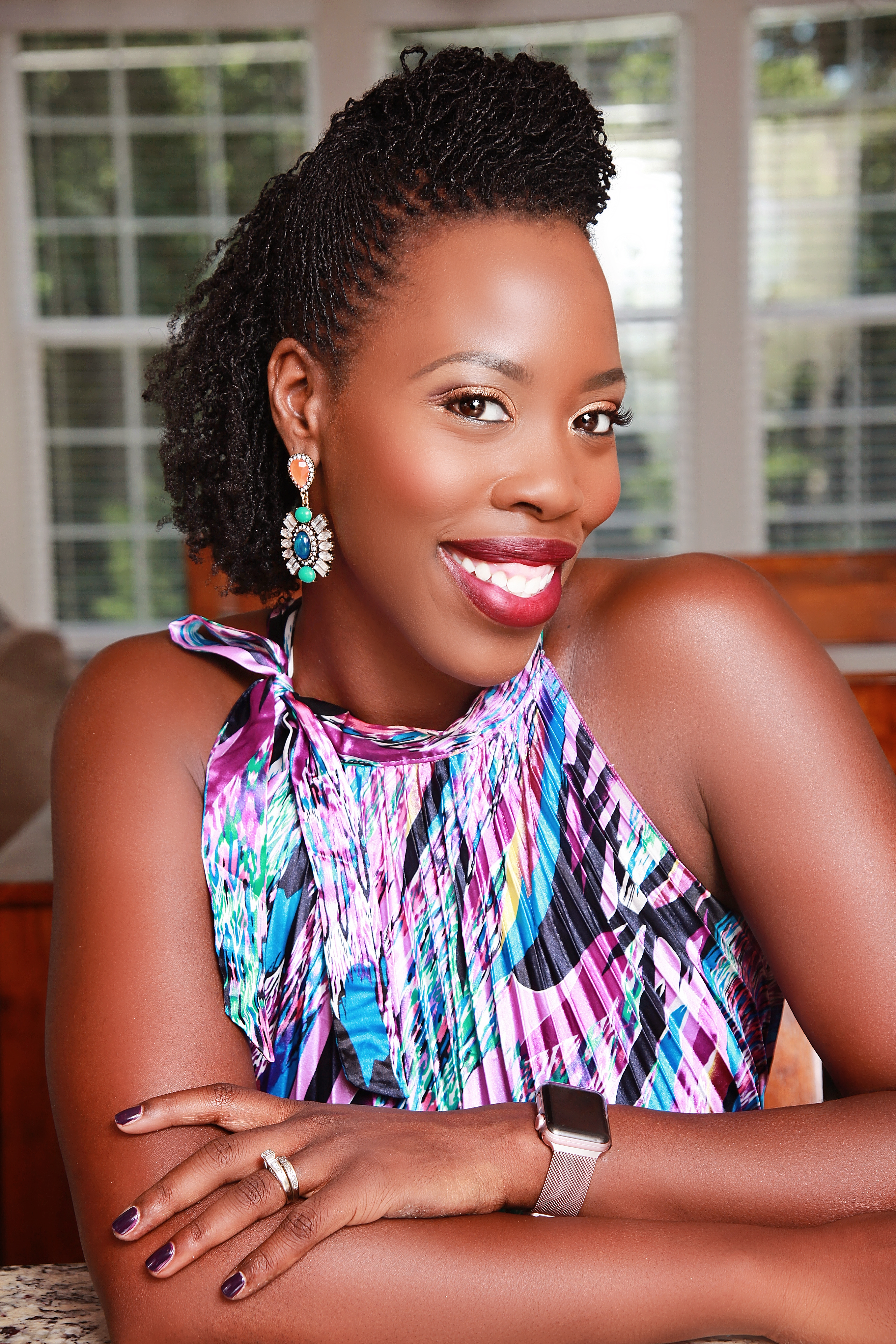 As a busy mother of three and rising entrepreneur, Christine K. St. Vil is a passionate professional determined to help moms everywhere learn how to F.L.Y. (First Love Yourself) and take charge of their lives through Moms N' ChargeTM (www.momsncharge.com). Driven by her personal experience with postpartum depression, frustration, and guilt after becoming a mother, she is committed to helping other moms avoid that same road. Today, she is living out her dreams through the work she does—teaching mothers everywhere how to create healthier lifestyles for themselves and their families, while still pursuing their own dreams and goals. She is a sought-after social media expert, speaker, and co-author of Whose Shoes Are You Wearing? 12 Steps to Uncovering the Woman You Really Want to Be.
To learn more about Christine, visit her blog, follow her on Twitter, Instagram, and Pinterest, and like her on Facebook.
!!!!! THE GIVEAWAY !!!!!
When you become a parent, it is inevitable that your lifestyle will change. However, that does not mean that you have to change who you are as a person. Becoming a parent does not kill your individualism even though it often feels that way. You are still entitled to have dreams and goals. You still have a right to work toward achieving the goals you have not yet reached. You are allowed to want things that do not include your kids or family. You deserve time to yourself to do anything that you want. You deserve time to work without distraction. You deserve a little time to embrace the culture around you and you deserve time to pamper yourself. With this in mind, we are giving one extraordinary mom an opportunity to have it all for one week.
Here is what you will win ($374.00 total value):
A one-week private co-working space (4 hours per day for five days) with two 4-hour childcare slots at The Rampart, a co-working facility in Atlanta's West End, for use in July 2018. (Valued at $320.00)
A $25.00 gift certificate toward self-care
Two tickets to High Museum of Art (Valued at $29.00); check the schedule for current Date Night, Me Time and Family Event listings


COMPLETE THIS FORM TO ENTER!!!
Bonus Entries:
5 Entries: Refer a New Subscriber. Make sure they put your name in the "How did you hear about us?" box.
Entries will be accepted from Thursday, June 21 through Sunday, July 1, 2018. If selected as the winner, the co-working space should be redeemed in July by contacting The Rampart at therampartatl@gmail.com.
You must be subscribed to all editions listed on the form to be eligible to win. Completing the form is your authorization to be subscribed to all four editions of Macaroni Kid associated with this contest, including College Park-East Point-Morrow; Douglasville-South Fulton; Downtown-West Atlanta and McDonough-Stockbridge-Griffin.
Macaroni Kid College Park East Point Morrow is a free hyper-local weekly newsletter and website focused on fun family events and activities for kids in College Park, East Point, Morrow, Union City, Forest Park, Hapeville, Jonesboro, Riverdale and the surrounding areas. We gather together all kinds of local family events and activities each week and add useful information about classes, family-focused businesses, product reviews, recipes, crafts, school and camp guides, and more. We are your go-to-guide for kids activities in South Fulton County and some of Clayton County. For more articles like this delivered to your inbox once per week, please subscribe. If you have an extraordinary event that you would like to share in our community, you can submit it for free here.
Remember to connect with us on:
Facebook ✿ Twitter ✿ Instagram ✿ Pinterest