Did you know that along with learning about upcoming family friendly events, our readers can get a special Macaroni Kid Discount at some of the most popular locations around town?
This week's SAVING SPOTLIGHT is WORLD OF COCA-COLA

Spring in Atlanta is right around the corner – celebrate with World of Coca-Cola's "Friends and Family Four-Pack" offer! Visiting World of Coke with friends and family is always a good idea – and now the deal gets even sweeter when you bring the whole squad.
From Sunday, March 1, to Tuesday, March 31, with the Friends and Family Four-Pack Offer, World of Coca-Cola guests can purchase up to four general admission tickets, in any combination, for $50. For four adult tickets, that's a savings of $18 (and perfect timing for many private school and college/university spring breaks)!
Special Offer Details:
To take advantage of the 4 for $50 plus tax offer, guests should show the "Friends and Family Four-Pack" coupon (found on World of Coca-Cola's website) on their mobile device or present a printed copy of the coupon.
This offer can be redeemed at walk-up ticketing windows only and cannot be redeemed online.
There is a limit of 2 offers or "four-packs" per transaction, for a maximum of 8 promo-priced tickets per transaction.
Promotional pricing does not apply to single tickets. Regular general admission pricing applies to tickets purchased in addition to "four-packs."
This offer is valid for visits March 1-31, 2020 only.
This offer is not valid with any other offers or discounts.
FREE CHICK-fil-A® BACKSTAGE TOUR

If you're looking for fun in Atlanta, Macaroni Kid is excited to share a recipe that will have you craving Chikin!!! We are happy to announce that Chick-fil-A®Backstage Tour is inviting all Georgia Macaroni Kid subscribers to be their guests on a fun storytelling experience that will lead you through the fascinating history, culture, and values of Georgia's very own Chick-fil-A® and its founder S. Truett Cathy.
Located near Hartsfield-Jackson International Airport and nestled on a scenic 80-acre landscaped campus, the behind-the-scenes tour provides visitors an authentic experience inspired by the highly successful restaurateur and the multi-million dollar brand that grew to become one of the most successful chicken restaurant chains in the country with over 2,000 locations across the U.S.
Whether you're looking for your next family outing, a team-building activity, or a school field trip, the Chick-fil-A® Backstage Tour is the perfect ingredient for fun.
This offer is good until July 2, 2021. Free parking on-site.
"ORIGINAL" TOUR TIMES:
Tuesday – Friday - 9 AM, 11 AM, or 1:30 PM
ABOUT THE TOUR:
The Chick-Fil-A® Backstage Tour is a fun-filled and enlightening storytelling experience inspired by the fascinating history, culture, values and unique business model of Chick-fil-A® and founder S. Truett Cathy. Throughout the tour, guests will experience the very assets that make Chick-fil-A® so special: hospitable people, tasty food, the "Eat Mor Chikin" Cows, and rich history.
During the tour, guests will learn some of the company's best-kept secrets, hear inspiring stories about Truett and the early days of Chick-Fil-A®, and tour the scenic 80-acre corporate campus.
You will also be able to enjoy shopping at our new retail store and purchase your favorite food to enjoy after your tour.
Hungry for more?
If the "Original" Tour just isn't enough and you want an extra serving of Chick-Fil-A®'s award-winning southern hospitality, other tour options are available for purchase.



Be an honored guest during with "Deluxe" Tour (2-hour tour held on Mondays at 1:30 PM) - $20.00
In addition to the Original and Deluxe Tours, The Chick-Fil-A® Backstage Tour also offers tailored, age-appropriate experiences for Elementary, Middle and High School groups that include study guides. Contact for pricing.


Special pricing is offered for groups of 10 or more. For details, contact chick-fil-abackstagetour@chick-fil-a.com.It is recommended that groups purchase tickets in advance to find the best type of tour and time for your group. Tickets can be purchased HERE.
Photo Opps Available: Use hashtags #IHEARTCHIKIN #CFATours
This special offer is good for you plus three guests to enjoy the "Original" one-hour tour. Although this is a free offer for four guests, reservations are required. Additional tickets can be purchased on the website.
To reserve your complimentary tour, please email your name, group size and 3 preferred tour dates and time to Chick-fil-abackstagetour@chick-fil-a.com. Make sure to mention that you are a Duluth/ Norcross/ Suwanee/ Johns Creek/ Peachtree Corners Macaroni Kid subscriber.
EXCLUSIVE MACARONI KID DISCOUNTS AT OTHER LOCATIONS:

Macaroni Kid Subscribers have the exclusive opportunity to enjoy the Georgia Aquarium at an *admission price not available anywhere else. But your savings don't stop there. Your exclusive MK Discount can also be used to experience some amazing animal encounters that are perfect anytime , but they especially make for unforgettable birthdays and special occasions!
ALL ACCESS BACKSTAGE PASS: BEHIND THE SEAS TOUR

COST: $15.00, MK Discount Price: $13.60 + TAXExplore the secrets of Georgia Aquarium! Get a fascinating backstage look at our most popular exhibits from a view that only a Behind the Seas Add-on Tour can give you. You'll come closer than ever before with a visit to the topside of the galleries to watch the whale shark feedings, tour of the Commissary, where all of the food for the residents is prepared and inspected daily, and a stop in the filtration room to see the equipment that filters the 6.3 million gallon habitat. You will also visit The Correll Center for Aquatic Animal Health where the large staff of veterinarians and marine biologists conduct routine check ups, as well as medical and emergency procedures. This state-of-the-art center also facilitates research, conservation activities, and in partnership with UGA, provides training for veterinary residents, interns, and externs. For ages 7 and up.
All sleepovers include admission to the Aquarium at 6pm on the day of your sleepover and entrance to all presentations, a bedtime snack, breakfast, guided tours, and a sleeping spot in front of a magnificent gallery window. Wake up next to an amazing animal habitat before any other guests arrive and enjoy the aquarium free of charge for the entire day after your program. This program is designed to be adaptable for all group types, from age 7 to adults.After the Aquarium has closed its doors for the night and everyone has gone home, your exciting night of adventure and exploration begins. Explore the Aquarium in a brand new way as their world-class tour guides take you on an adventure through the deep waters of the ocean and its coral reefs, focusing on the aquatic animals and habitats and what you can do to help preserve these wonderful resources.
COST: $100.95 per person, MK Discount Price: $91.95
NOTE: This discount is not available on the website. You must call 404-581-4000 and choose #3 for booking events, then choose #1 to purchase tickets. When a live agent answers tell them you are a MK Club FISH member and wish to use the member price of $91.95 and they will book it for you.

SEA LION/ SEA OTTER/HARBOR SEAL ENCOUNTERS:PENGUIN ENCOUNTER:
Go behind the scenes of the Cold Water Quest gallery for an up-close-and-personal 30 minute visit with a penguin. Learn about their care, the aquariums conservation initiatives and get a photo of you and the penguin to take home! Minimum age is 7 years.
COST: $64.95, MK Discount Price: $58.95
With our unique 45 minute Sea Lion/ Sea Otter/ or Harbor Seal Encounter, you can go behind the scenes and interact with these charismatic animals. Enjoy an exclusive tour of their facility and a special educational presentation. Then you will participate in an exciting training session alongside Georgia Aquarium's own animal trainers. You will experience an exclusive, up close and personal animal encounter while learning more about the Aquarium's rescue, research and conservation initiatives. You'll even take home a professional photo of your special and meaningful experience, courtesy of Georgia Aquarium. Minimum age is 7 years.
COST- HARBOR SEAL: $64.95, MK Discount Price: $58.95
SEA LION or SEA OTTER: $69.95, MK Discount PRICE:$62.95
DOLPHIN ENCOUNTER:
In this exhilarating poolside animal interaction, you'll go backstage inside the dolphin theater to meet, touch and feed one of the incredible dolphins. Spend some time with one or more of the delightfully charismatic dolphins and you'll quickly understand what makes these marine mammals some of Georgia Aquarium's most popular animals. During this dolphin experience, you'll see many of the ways they care for the dolphins, participate in a training session and touch a dolphin during this hands-on poolside encounter. Minimum age is 7 years.
COST: $69.95, MK Discount PRICE: $63.95
BELUGA INTERACTIVE: (See my review of this awesome experience HERE)
Get to know Georgia Aquarium's beluga whales! You'll come face to face with these engaging arctic mammals under the guidance of one of the fantastic animal trainers. During this unique interaction, you'll suit up, get into the water and stand waist-deep in the beluga habitat alongside the trainers. This intimate and interactive session allows participants to touch them, participate in a training session, and form emotional connections with these magnificent animals! You must be 60 inches (5'0'') tall and weigh less than 300 pounds to participate. Each guest 15 and under must be accompanied with a participating adult.
COST:$154.95, MK Discount Price: $139.95
SWIM OR DIVE WITH THE WHALE SHARK:
Journey with Gentle Giants is the only opportunity in the world where you are guaranteed to snorkel/dive with the largest fish in the world, the whale shark, in Georgia Aquarium's Ocean Voyager exhibit. This 6.3 million gallon exhibit houses thousands of fish including zebra sharks, sawfish and more!
All swim/ dive participants must be ages 12 and older and guests under the age of 18 must be accompanied by a participating adult in the water.
Dive participants must be Open Water certified SCUBA divers. All gear is provided for the 30-minute dive and personal masks are permitted.
COST- SWIM: $233.95, MK Discount PRICE: $189.95
DIVE: $333.95, MK Discount PRICE: $279.95
DAILY TOTAL TICKET ADMISSION
ADMISSION:

WALK UP PRICE:

ONLINE PRICE:

MK DISCOUNT PRICE:

BEFORE 11 AM- ALL

$39.95

$29.95

$28.95

11 AM TO 4 PM:






ADULT- 13 TO 64 YRS

$39.95

$32.95

$30.95

CHILD- 3 TO 12 YRS

$39.95

$28.95

$26.95

SENIOR- 65+ YEARS

$39.95

$31.95

$29.95

AFTER 4 PM- ALL

$39.95

$26.95

$25.95

*Your Total Ticket includes all six galleries in addition to the spectacular AT&T Dolphin Celebration, Under the Boardwalk Sea Lion Show, Happy Feet 4D Multi-sensory Theater, and the Penguin Waddle Walk at 10:40 AM.
For just $13.50, add the Behind the Seas Tour to your ticket... it is absolutely worth it! You enter the "Employees Only" door to see additional galleries, learn how all these animals and fish are fed each day, peek in the animal hospital and watch the whale sharks eating lunch.
Click HERE to purchase your Macaroni Kid Discount Tickets to Georgia Aquarium.
MEDIEVAL TIMES DINNER & TOURNAMENT

Save on Any Show At All Nine Castles!
We are so fortunate to have one of the nine Medieval Times North American Castles in our area. This outstanding show featuring chivalry, rivalry, & revelry is truly family entertainment at its finest!
Medieval Times Dinner and Tournament recreates an 11th-century tournament inside their 1100 seat indoor arena where you are the royal guests. Watch Andalusian stallions perform, the King's own falcon fly and all six knights engage in live jousting and sword fights that maintain the highest quality of action-packed entertainment and safety standards.
The show at the Atlanta castle was updated about two years ago with new, exciting music, beautiful costumes, dramatic lighting, more fighting and of course, more horses! The magnificent stallions are the real stars of the show. The Pure Spanish Horse was prized by medieval royalty for its astonishing strength, agility, and even temperament. Their performance is one of the highlights of the show.
Included in the price of the show is a 4 course, utensil-free meal that is served during the show, so you never feel as though you are waiting. The waiters are terrific! They are very efficient and remain in character, answering every request with "Yes, my Lord", or "as My Lady wishes". The menu includes pureed tomato soup, garlic bread, roasted chicken half, BBQ rib, half a potato, & an apple pastry along with beverages. (A vegetarian option is also available) The portions are large and the kids love eating with their fingers. Don't worry, they even provide warm wet-wipes after the meal to clean up messy hands and faces!
This show provides heart-pounding entertainment, lots of crowd participation as you cheer for your favorite knight, gorgeous horses, brave knights, royal pageantry and a feast "fit for a king"! It's no wonder it's rated the #1 Dinner attraction in North America!
TICKETS: Click HERE to get the exclusive Macaroni Kid Discount Rate and SAVE over 30%
Adults are $56.95 each, but with our exclusive Macaroni kid Discount, adults are just $38.16!
Children under 12 are $36.95, But with our exclusive MK Discount, Children are just $27.71!
This discount is valid at all nine castles. The $4.00 fee per ticket will be waived by purchasing through your unique e-ticketing link. Those using the link to purchase tickets will not see the discount until they choose a show and input the number of guests. The total on the following page will reflect your discount. Vegetarian meals and meals for restricted diets are available upon request.
SNOW MOUNTAIN AT STONE MOUNTAIN PARK

NOTE: Closed until March 14th. 2020 MK Admission Discounts will be announced soon!
FREE PRE-K SPRING/SUMMER PASS TO STONE MOUNTAIN PARK
Register your 3-5 year old for a FREE 2020 Pre-K Spring/Summer Pass to enjoy unlimited visits to Stone Mountain Park Attractions from March 1 through August 31, 2020!
DISCOVER
There's plenty of fun to be had this spring and summer! Join us for family-friendly attractions and special seasonal events including Spring FUN Break and Summer at the Rock—perfect for keeping your the little ones engaged.
EXPLORE
An all-new experience for 2020, Dinosaur Explore is just one of our family-favorite attractions! Travel back in time in a prehistoric exploration you design and help save the dinosaurs from extinction.
AND MORE!
Soar to the summit on Skyride, take a 5-mile ride around the mountain on the Scenic Railroad, and trek through our low-level obstacle course at Camp Highland—the adventures are endless!
Get To The Fun In 3 Simple Steps!
REGISTER ONLINE Register your child online to get their 2020 Pre-K FREE Kid's Pass. Online registration required. Registration is not available at Stone Mountain Park.
ACTIVATE AT THE PARK After you register your child online, bring them to the park to activate their Pre-K FREE Kid's Pass. Make sure to bring your child and a copy of their valid birth certificate or passport that shows age or date-of-birth.
PLUS, for a limited time, register and activate your child's pass before February 23 and get a free ticket* to Snow Mountain! *Subject to availability.
PLAY! After activation, your child can come and enjoy Stone Mountain Park Attractions from March 1 through August 31, 2020, for FREE! The Rockin' Land & Lake Tour is not included in the Pre-K FREE Kid's Pass.
Register your child for their FREE Pre-K Spring/Summer Pass today! Endless adventures await as your child discovers interactive, family-friendly attractions, special seasonal events, outdoor recreational activities and more!
FREE Snow Mountain Ticket* when you Register And Activate Before February 23, 2020! DETAILS!

Pre-K Companion Passes Just $39.95
For only $5 more than a single day attractions pass, Pre-K Companion Passes let parents, guardians and siblings join in all the fun!
Available for purchase during Pre-K Pass Registration and Activation, Pre-K Companion Passes let you enjoy the same unlimited visits with your little one from March 1 through August 31!
Stone Mountain Park is located 16 miles east of downtown Atlanta. To get to the park, take I-285 to Exit 39B, Hwy. 78 East. Stone Mountain Park is at Exit No. 8 on Hwy. 78. More information regarding Stone Mountain Park attractions and hours of operation is available by calling 1-800-401-2407 or by visiting Stone Mountain Park.

Six Flags Over Georgia will be opening again on weekends beginning March 7th!
However, right now you can get a fantastic price on a 2020 3-Park Gold Combo Season Pass!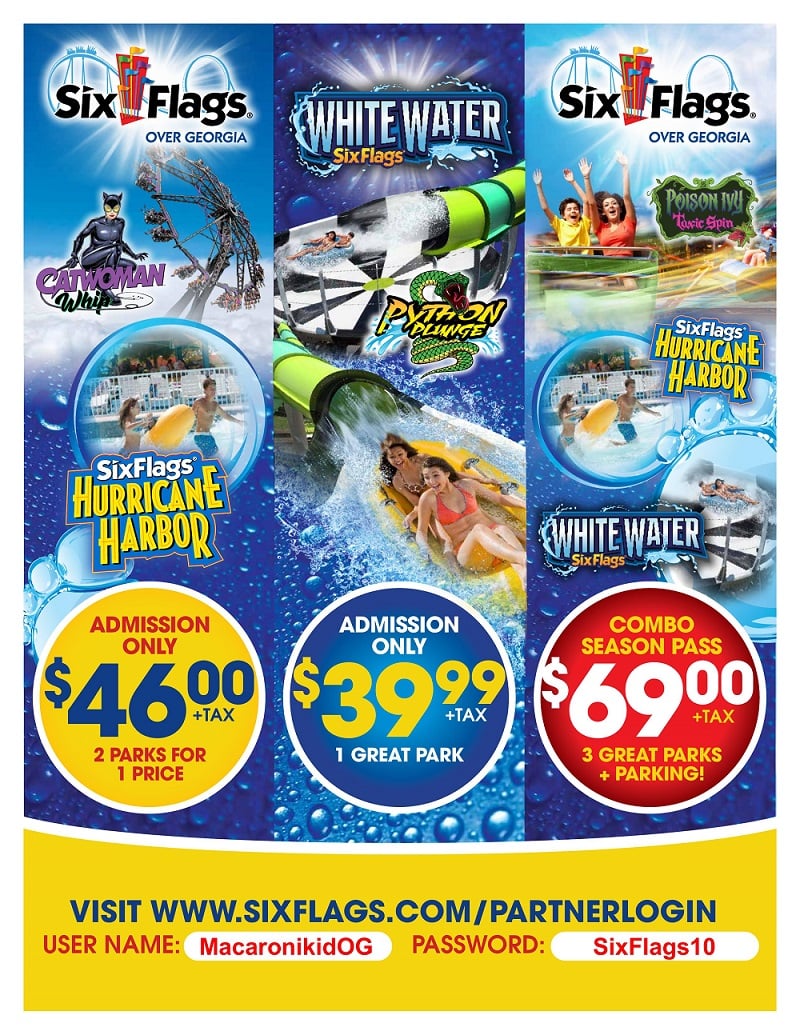 A 2020 Combo Gold Pass includes unlimited admission AND FREE parking to Six Flags Over Georgia, Hurricane Harbor AND Six Flags White Water plus more!
FULL LIST OF BENEFITS:



Includes parking every visit in 2020
Unlimited admission to Six Flags Over Georgia
Unlimited admission to Hurricane Harbor
Unlimited admission to Six Flags White Water
Includes park admission to Fright Fest
Includes park admission to Holiday in the Park
Unlimited admission to ALL Six Flags theme parks
Special days when you can bring a friend free
Exclusive ride time events
Significant discounts on park tickets for friends
Hundreds of dollars worth of in-park savings
Bonus free friend ticket for Pass Holders on a select day
Exclusive ride time events for Pass Holders
Special dining discounts for Pass Holders
Special souvenir offers for Pass Holders


The price for this pass is regularly $202.99 and their website is offering an Early-Bird Discount for $79.99.
However, right now with your Exclusive Macaroni Kid Discount, your price is only $69.00 !! I'm not sure how long this price will be available, so get them while you can!
Click HERE to reach the Macaroni Kid Discount page and enter the user id: MacaronikidOG and password: SixFlags10 (both are case sensitive). Kids 2 and under are FREE.
NOTE: The Season Pass is the only option right now, but once the park opens on March 7th, the MK page will also list a 1-day park pass for $39.99 ( Regular price $43.00) or a 2-park pass for $46.00 CITY PASS ATLANTA




Take advantage of the CityPass and play tourist at 5 must-see Atlanta attractions! Your pass is valid for nine days beginning with the first day of use. $77 for an adult and $63 for a child.

Atlanta CityPASS Includes:



Georgia Aquarium General Admission (includes immediate entry, AT&T Dolphin Celebration presentation with our incredible dolphins, The 4D Funbelievable Theater, Sea Lions: Under the Boardwalk and special exhibits when available).
World of Coca Cola (includes expedited entry and 4D theater).
CNN Studio Tour
Zoo Atlanta OR Center for Civil & Human Rights
Fernbank Museum of Natural History OR College Football Hall of Fame
Click HERE to purchase your CityPass

*****Please be sure to tell your friends to subscribe so that they can use all of these Exclusive Macaroni Kid Discount also!!*****