July 20 marks the 50th anniversary of the historic Apollo 11 space mission that landed the first two people, American astronauts Neil Armstrong and Buzz Aldrin, on the moon.
Here's a quick guide to where you can celebrate in and around Atlanta with no spacesuit required.
July 19
NASA Television will be broadcasting a special program on the eve of the anniversary live from the Kennedy Space Center in Florida called "Giant Leaps: Past and Future – Celebrating Apollo 50th as we Go Forward to the Moon." The program features live events at the newly-restored Apollo mission control room at the Johnson Space Center in Houston, the Marshall Space Flight Center in Huntsville, Alabama, a special guest at the Smithsonian National Air and Space Museum in Washington and more. Watch is on the NASA live channel.
July 20
What better way to learn about the history and formation of the moon than from the moon itself! Join us for Storytime and activities, and get a coupon from our Café for a grilled cheese sandwich with milk or juice for $4 (Café stores only).
Moon Landing 50th Anniversary - Apollo 11 - J.J.'s Playhouse Event - Mercer University Douglas Regional Academic Center
PROGRAMS include:
"Exploring the Solar System: Hide and Seek Moon" is an engaging way for early childhood learners to experiment with some of the tools scientists use to study objects that are very, very far away, and to learn about how cultures around the world have viewed the Moon.
"Exploring the Solar System: Big Sun, Small Moon" is a hands-on activity that explores the concept of apparent size and allows visitors to experience this phenomenon using familiar objects—a tennis ball and a beach ball.
"Exploring the Solar System: Pocket Solar System" is a hands-on activity in which visitors make a scale model of the distances between objects in our solar system. They learn that there is a lot of space between planets and that our solar neighborhood contains many other interesting features and objects. They can even imagine where they might like to send a NASA mission spacecraft in the future!
Moon Landing Celebration - Fernbank Museum
Usher in the 50th anniversary of man's first steps on the moon in a special celebration of NASA's 1969 moon landing with interactive activities and special screenings of Apollo 11: First Steps Edition 2D.
Some activities include:
SoAR Rocketry
Meet the team who flies rockets for fun and enjoy a close look at their favorite rocket models.
Oreo Cookie Moon Phases
Join the Institute of Electrical and Electronics Engineering Atlanta to recreate tasty models of each moon phase using cookies and frosting.
LEGO® Rockets
Get your imagination ready for blast off as you join a LEGO® Master Model Builder to create giant rockets.
Provided by LEGOLAND® Discovery Center Atlanta
Sun Fun
Safely observe the Sun with Fernbank's solarscope and Sun Gun telescope.
Our Expanding Universe
Consider how the universe is expanding and stretching with this hands-on activity.
Stomp Rockets
Launch this miniaturized version of a sounding rocket into the air.
Moon Landing 50th Anniversary StarLab - Chattahoochee Nature Center
Join us for a special StarLab in commemoration of the 50th Anniversary of the Apollo 11 moon landing. We will learn about the first manned mission to the moon, the phases of the moon, and summer constellations in our planetarium. You will leave prepared to view the night sky during the cool summer nights. Ages 6+ (note that the planetarium is in complete darkness).
Space Exploration Day - Children's Museum of Atlanta
July 21.
Moon Landing 50th Anniversary Celebration - Little Shop of Stories
Celebrate the moon landing with Kristy Dempsey, author of "Papa Put a Man on the Moon," and Atlanta Science Festival. Enjoy a book presentation and signing and moon-themed refreshments. Solar System Bracelet kits will be available for purchase for $5.
Books
The Apollo Missions for Kids: The People and Engineering Behind the Race to the Moon
Young readers will learn about NASA's great achievements in space travel and live like astronauts with 21 fun and educational activities. Jerome Pohlen's book will inspire science lovers and space enthusiasts. Recommended for ages 9 and older.
Apollo 11: 74 Fascinating Facts For Kids: The First Moon Landing
The Apollo 11 mission of 1969 made possible the first Moon landing when Neil Armstrong became the first human being ever to set foot on the surface of the Moon. Rod Weston's book brings you the story of the Apollo 11 mission through a detailed list of fascinating facts. Going through a long book can sometimes be overwhelming for a young person, but Weston presents the story of Apollo 11 and the first moon landing in 74 easy to understand segments. We hope the facts about Apollo 11 in this book will fascinate you and motivate you to discover even more about the Apollo missions and the men who walked on the surface of the Moon.
To the Moon and Back: My Apollo 11 Adventure
In celebration of the Apollo 11 Mission's 50th Anniversary, experience the awe and excitement of humankind's first steps on the moon! In this exclusive, exquisite pop-up adventure, readers follow astronaut Buzz Aldrin's story as he encounters the "magnificent desolation" of Earth's only satellite firsthand.
The exciting story of the Apollo 11 mission, published in a book for the youngest readers upon the 50th anniversary of this remarkable achievement! In this engaging Little Golden Book, preschoolers will enjoy the fascinating story behind what happened on July 20, 1969, when two human beings walked on the moon for the very first time.
This excellent ready to use book has 50 exciting story ideas to help any student get their story off to a great start. Includes some space and astronaut themed prompts to fire up kids imagination.
Snack Ideas
Rocket Dogs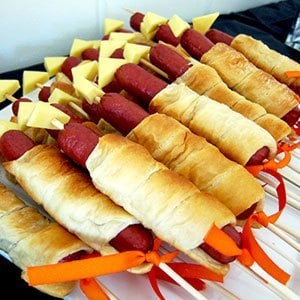 INGREDIENTS
Hot dogs (cooked)
Cheddar cheese (or whatever type you prefer)
DIRECTIONS
Take a hot dog, wrap it with Pillsbury breadstick dough and bake according to the instructions on the package.
Push a skewer through the hot dogs when done.
Slice cheese into triangle-shaped wedges & stick at the end of the skewer.
[via M for Mommy]
Eat the Moon Space Snack
INGREDIENTS
Plain rice cakes (no salt)
Cream cheese
bananas
cheerios
DIRECTIONS
Spread a thin layer of cream cheese on rice cake.
Top with sliced bananas and cheerios.
[via Things to Share & Remember]
Space Rocks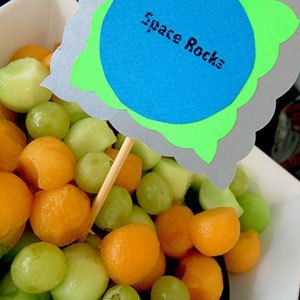 INGREDIENTS
Honeydew melon
Cantaloupe
Grapes (red or green)
DIRECTIONS
Use a melon scoop to scoop out cantaloupe and honeydew melon.
Mix with grapes & serve!
*Can also refrigerate and serve chilled
[via M for Mommy]
Activities
Click the title for a link to the downloadable copy of the following coloring sheets and origami instructions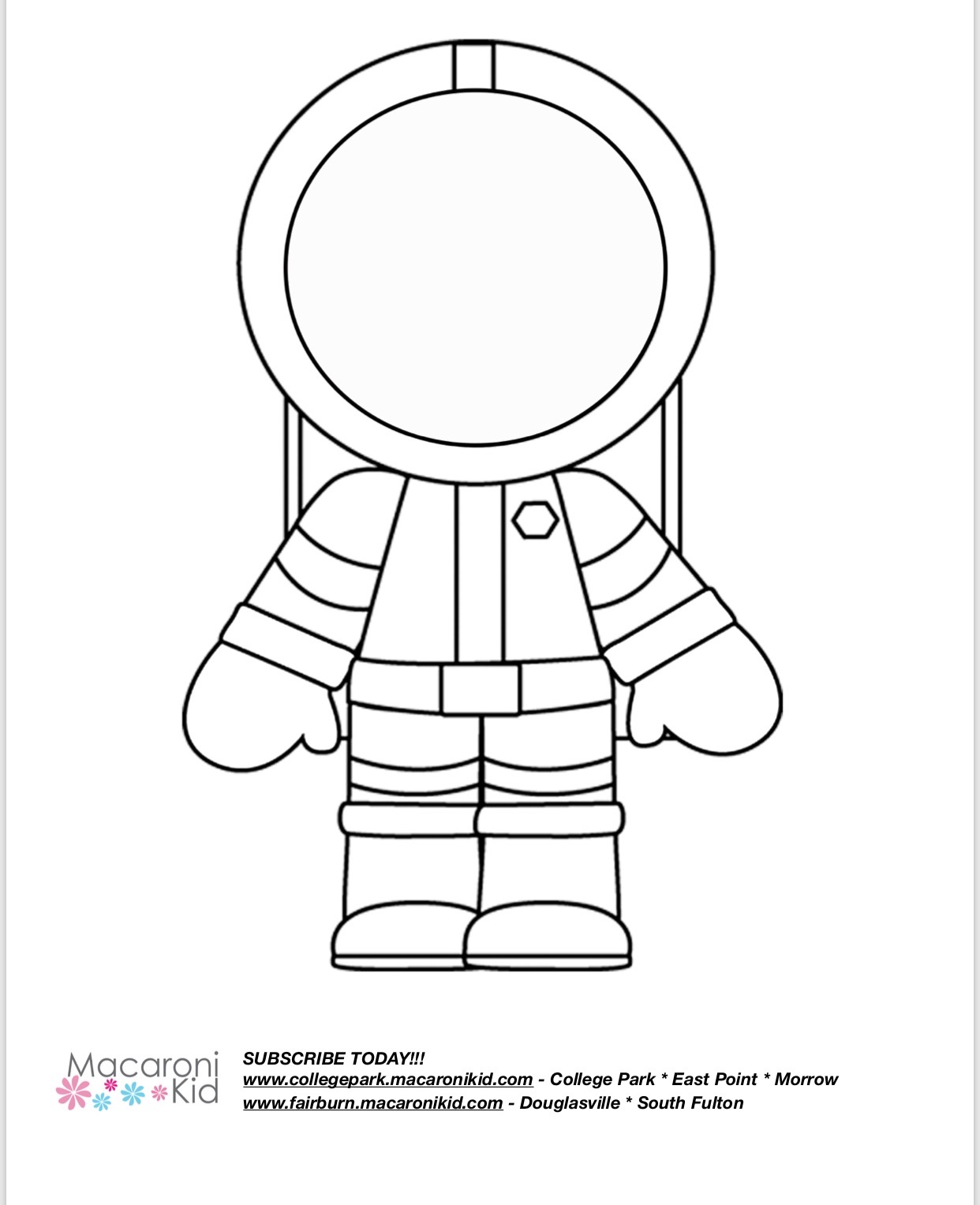 Coloring Sheets
Astronaut Monkey Coloring Sheet
Origami Instructions (Origami paper can be purchased at any local craft store or on Amazon.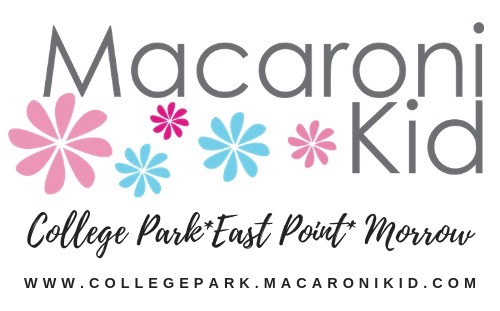 Macaroni Kid College Park East Point Morrow is a free hyper-local weekly newsletter and website focused on fun family events and activities for kids in College Park, East Point, Morrow, Union City, Forest Park, Hapeville, Jonesboro, Riverdale and the surrounding areas. We gather together all kinds of local family events and activities each week and add useful information about classes, family-focused businesses, product reviews, recipes, crafts, school and camp guides, and more. We are your go-to-guide for kids activities in South Fulton County and some of Clayton County. For more articles like this delivered to your inbox once per week, please subscribe. If you have an extraordinary event that you would like to share in our community, you can submit it for free here.
Remember to connect with us on:
Facebook ✿ Twitter ✿ Instagram ✿ Pinterest