Pretty POM Apparel just gave away more than $2,000 worth of new clothing, toys and household items to 10 families who lost almost everything this year. If 2020 has taught us anything, it's that someone always has it worse. That's why the Atlanta-area business is focused on the needs of others this Christmas.
The #PrettyItForward Give Back Mission helped 10 families this weekend. Pretty POM hopes to make the activity an annual initiative. The families are spread across the country. One Georgia recipient was displaced after losing their job, and struggles to take care of their six children. Another family lost their home in a horrific hurricane earlier this year, and several single moms got an extra set of helping hands for the holidays.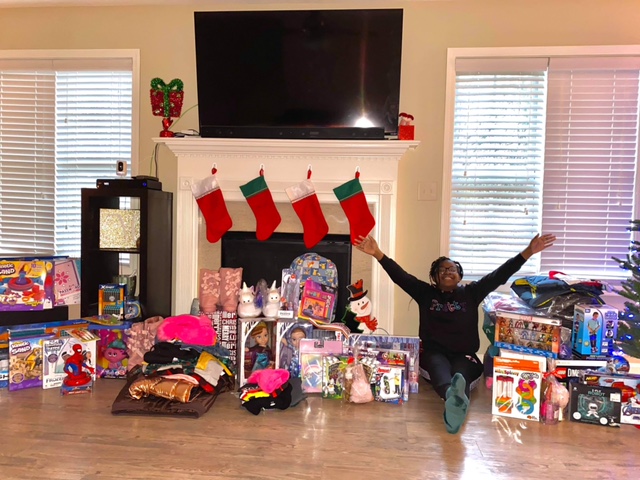 The idea sparked in early December when Pretty POM owner, Angelique Moore, saw an inspiring video on Officer Tommy M. Norman's popular Facebook page. The Little Rock, Ark., police officer is known for posting viral videos that encourage people to look out for their fellow man.

On a whim, Moore reached out and told Norman that she'd been inspired to give back to families. That's when the initiative was born. Norman even connected Moore with three Arkansas families that could use the assist.

Moore and her 10-year-old daughter, Semiyah, run Pretty POM together, designing and selling bonnets, jogging suits and bedding that feature black princesses. Despite the coronavirus pandemic, sales remained high for their home-based business.
"We had a really good year this year," Moore says, reflecting on the lifestyle her children have enjoyed. "(Semiyah), at 10 years old, doesn't understand the impact... It's been really nice to be able to teach her why it's important to give back."
Since last week, Moore has turned into an elf of sorts, bringing home stockpiles of goodies from local stores. She wrapped the final packages and shipped them off this weekend. "For me," she says, "it's my Christmas gift."

To learn more about Pretty POM Apparel, visit www.myprettypom.com, Facebook and Instagram.
About Pretty POM Apparel
Angelique Moore founded Pretty POM Apparel in 2017 to provide representation for all girls, especially girls of color. Her then 6-year-old daughter had begun questioning her own skin tone and hair texture. Since there were very few cartoon charters of color, Moore decided that change was necessary. She designed her own characters, Princess Piper and Princess Olivia, who don every piece of apparel, bedding and bathroom décor the company sells.
The name "POM" is an acronym for "piece of me" and a nod to the curly puff ponytails traditionally worn by African-American girls. Pretty POM is based in the metropolitan Atlanta area. It is committed to celebrating the skin tones and various hair textures these children encounter in their lives every day.
🌸🌸🌸🌸🌸
Macaroni Kid College Park East Point Morrow is a free hyper-local weekly newsletter and website focused on fun family events and activities for kids in College Park, East Point, Morrow, Union City, Forest Park, Hapeville, Jonesboro, Riverdale and the surrounding areas. We gather together all kinds of local family events and activities each week and add useful information about classes, family-focused businesses, product reviews, recipes, crafts, school and camp guides, and more. We are your go-to-guide for kids activities in South Fulton County and some of Clayton County. For more articles like this delivered to your inbox once per week, please subscribe. If you have an extraordinary event that you would like to share in our community, you can submit it for free here.
Remember to connect with us on:
Facebook ✿ Twitter ✿ Instagram ✿ Pinterest
Find Your Family Fun®